Uganda's President Listened to Work Report on the China Uganda Mbale Industrial Park
2017-11-22 来源: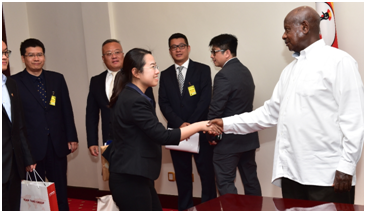 On November 15, 2017, Wang Wentong, general manager of China Uganda Mbale Industrial Park, led the company representatives who have the intention to invest in the park meet with Ugandan President Museveni at the presidential palace in Entebbe, together with Uganda Ministry of Finance and Electricity Company officials.
First of all, General Manager Wang Wentong reported to the president about the progress of the park and some of the challenges it faces. Afterwards, he said that the preparatory work for the park has started and that many engineering equipments are in full swing for site formation, wall construction and water& electricity connection. In the meantime, the professional team led by the chairman of the park is carrying out intense investment promotion activities in various provinces in China, promoting China Uganda Mbale Industrial Park to more and more Chinese enterprises.
After hearing the report, the president was very gratified and recognized the progress of the park. He said that Uganda is vigorously promoting industrialization and China plays a very important role in Uganda's economic and social development. He hopes that China Uganda Mbale Industrial Park can be built as a demonstration park of Chinese investment enterprises, the government will, as always, give its strong support in infrastructures such as the water electricity network and provide more preferential terms to help the park develop rapidly.
During the talks, China New Blue Group proposed to set up a cellphone factory integrating design, manufacture and assembly in the park. Monseigneur President expressed his great interest in this idea and claimed that the government will provide all conveniences to facilitate the project.
As the main development body in the park, Tian Tang Group has 13 wholly-owned subsidiaries in Uganda and has more than 10 years of overseas park investment and management experience, we are very willing to provide a platform for development and good service for Chinese 'going global' enterprises so that We can make fewer mistakes in overseas investment and develop better. In addition to investment promotion, attracting investment and service providers, the park will provide the highest platform for real investors to meet with the top leaders of Uganda and the government to improve work efficiency and ensure the smooth operation of the project. Through this meeting with President, China Uganda Mbale Industrial Park will get more and more beneficial government support policies and provide broad development and more profits for domestic enterprises investing in Uganda under the new situation of the 'Belt and Road' 'international capacity cooperation development'.