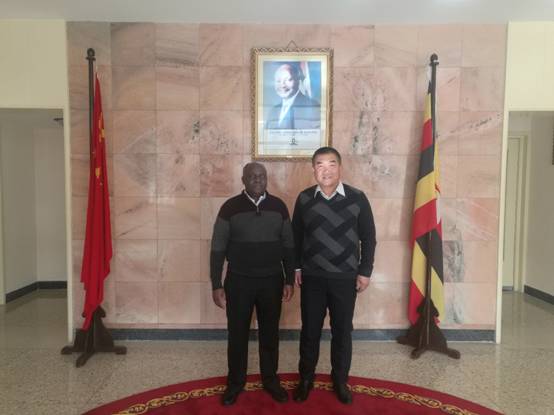 On December 11, 2017, Uganda's new ambassador to China, Kionga, cordially met with Mr. Zhang Zhigang, chairman of China-Uganda Mbale Industrial Park, and both had friendly talks with each other.
Firstly, Chairman Zhang Zhigang briefed the ambassador about the progress of the work in the China-Uganda Mbale Industrial Park and said that the current ' Belt and Road' Initiative has provided new opportunities for capacity cooperation between the two countries. As the main development body, Tian Tang Group adheres to the localization development strategy and has been very familiar with the Uganda market and investment environment. Tian Tang Group has good external relations with the local government departments, trade associations, financial institutions, and also has accumulated rich experience in the overseas park construction n and management. All of these will play a leading role in demonstrating and promoting the presence of Chinese enterprises in Uganda. We hope the Ugandan government will continue to vigorously support the park construction, provide more favorable policies and convenience to promote industrial cooperation and achieve win-win situation.
Ambassador Kionga said that China and Uganda enjoy a profound traditional friendship. Since the establishment of diplomatic ties, the bilateral economic and trade relations have witnessed rapid development. The fields for cooperation have been constantly expanded and political mutual trust has been continuously enhanced. In recent years, in particular, more and more Chinese enterprises have participated in the investment in Uganda and made outstanding contributions to the economic and social development in the region. The China-Africa Cooperation Forum and the Belt and Road Initiative proposed by the Chinese government provide the foundation for Uganda's economic restructuring and development and bring tangible benefits to the people of Uganda. The ambassador said Uganda is willing to learn from China about the experiences of developing special economic zones and industrial parks, and will strengthen cooperation in the fields of infrastructure construction, investment and tourism, etc. He spoke highly of the China-Uganda Mbale Industrial Park which is built by Tian Tang Group. It is an important step for Uganda's industrialization and win-win of economy and social benefits .It has been listed by the Ugandan government as a national priority development project. The Ugandan government will provide more support and assistance to promote the park's mature operation as soon as possible so as to promote the economic development in the surrounding areas quickly and better. At the same time, he said Uganda is a popular place waiting to be developed. He hopes that Chinese enterprises can understand Uganda, enter Uganda, invest in Uganda, inject new vitality into Uganda's economic development and add strong momentum to the friendly cooperation between China and Uganda.